Dialect is fascinating and fun and innovative.

Jason Morningstar (Fiasco, Night Witches)
..a language-building story-telling thing of beauty

Jay Treat (Legacy of the Slayer, Strange Gravity)
This is a game about how culture, language and thought interact ... and that is amazing!

Alex Roberts (Backstory Podcast)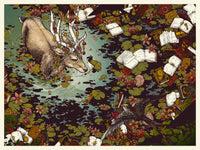 What's Included
▪ A hardcover book and language generating deck, both gorgeously printed with professional layout and beautiful art.
▪ Free PDF version delivered immediately with all orders.
▪ Playsets contributed by 11 world-class game designers, linguists, language creators, and generally-formidable humans that explore diverse settings.
▪ A contributed chapter on language invention by David Peterson (author of The Art of Language Invention and language creator for HBO's Game of Thrones)
▪ A chapter on language revitalization by Steven Bird, linguist, community organizer and champion for language vitality.
▪ Free printable play references available here.
Gameplay
In Dialect, players take turns changing the language as time goes on and using that language as members in the community. It's a collaborative effort and doesn't use a gamemaster.
The first step of any game is creating our community. At the start, we pick a backdrop which forms the world in which the Isolation exists (more on backdrops below). Next, we make the world our own by defining three aspects for our community. These will be the touchstones of our society, and will be the initial seeds from which our language grows.
See below for reviews and actual play footage.
A few public mentions:
Waypoint: Playing the birth and death of language in Dialect
OneShot Podcast: Dialect Part 1 and Part 2
Actual Play: From Linky to Linker. Dialect Play Report
among more ...